Seattle Nut & Bolt: Seattle's Supplier of Nuts and Bolts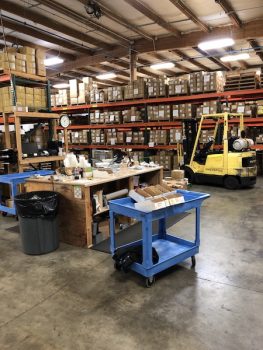 Since 2009, Seattle Nut & Bolt has served the Seattle metro-area as a high-quality, reliable source of non-ferrous fasteners. Our customer service and impressive catalog are unparalleled in the area.
Our knowledgeable team has over half a century of combined experience in the fastener industry, and we've worked with businesses and contractors in a wide range of industries, including the marine industry, power and utility construction, and more!
---
The Benefits of Non-Ferrous Nuts and Bolts
Non-ferrous fasteners are nuts and bolts, as well as screws and other accessories, that do not contain any iron. There are multiple benefits to non-ferrous fasteners for many different industries, most notably marine construction or any structures exposed to the elements. These benefits include:
Stain Resistance: Non-ferrous fasteners tend to resist staining much better than ferrous fasteners, which makes them more suitable for cosmetic applications.
Corrosion and Rust Resistance: Due to the absence of iron in the metal, non-ferrous fasteners are resistant to both corrosion and rust. This resistance improves the durability and reliability of the fasteners.
Heat Resistance: Non-ferrous fasteners have high heat resistance, which makes them suitable for use in applications exposed to high heat, such as food preparation.
Aesthetically Appealing: Due to its resistance to stains, corrosion, and rust, non-ferrous fasteners are often used for cosmetic applications due to their sleek look.
---
Silicon Bronze and Brass Fasteners
Seattle Nut & Bolt carries a variety of silicon bronze and brass nuts and bolts for use in a wide range of industries, most notably power and utilities as well as the marine industry. Additionally, silicon bronze and brass fasteners are useful in marine environments such as brackish water and seawater. In these situations, the brass takes on a green protective coating called patina. Some of the properties of silicon bronze and brass fasteners include:
High thermal conductivity
Corrosion-resistant
Largely non-magnetic
Aesthetically pleasing, especially with wood applications
---
Nylon Fasteners
Nylon fasteners are useful in situations where metal fasteners aren't advisable. For example, nylon fasteners are also valuable for electronics manufacturing. Additionally, nylon fasteners are often used during the production of fire-resistant products because nylon doesn't burn; it melts. Nylon fasteners aren't suitable for all industries, however. It absorbs water and lacks UV resistance, and it's not as durable as other materials.
The knowledgeable team at Seattle Nut & Bolt can go over available nylon fasteners and the pros and cons of each type. There are a variety of threaded nylon fasteners available, which may prove useful when other non-ferrous fasteners are not suitable. We have experience serving a wide variety of industry professionals. Contact us today for a custom quote on your next order of nylon fasteners!
---
Stainless Steel Fasteners
Stainless steel fasteners
are among the most commonly-used fasteners across diverse industries. Stainless steel is stable, reliable, and anti-corrosive. Additionally, its heat resistance properties make
stainless steel bolts
and screws suitable for a wide range of applications, including:
Equipment and components exposed to saltwater or chemicals
Food manufacturing components and equipment
Sanitary equipment
Gray water and sewage treatment plants
High-heat and high-stress parts that require strength and stability
---
Why Choose Seattle Nut & Bolt as Your Nut and Bolt Supplier?
In addition to our extensive catalog of available non-ferrous fasteners, we dedicate ourselves to providing reliable, consistent customer service to all of our customers. Some of the benefits of choosing Seattle Nut & Bolt as your fastener supplier include:
Same-day shipping on in-stock inventory
Knowledgeable team with over fifty years of experience
VMI (Vendor Managed Inventory) Programs
Custom and non-standard piece orders
High-quality fasteners and accessories from world-leading manufacturers
Contact Seattle Nut & Bolt for a Custom Quote for Nuts and Bolts
No matter your industry or project, Seattle Nut & Bolt can help save you time, money, and energy. Contact us today to explore our products and for a custom quote that fits both you and your business's needs!