What Is A Non-Ferrous Fastener?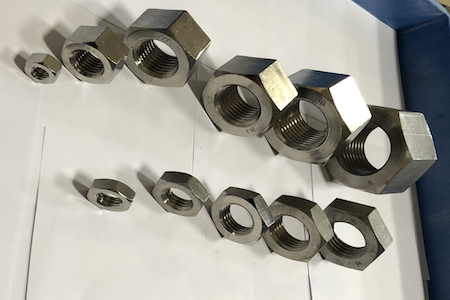 Seattle Nut & Bolt provides Seattle with non-ferrous fasteners made from stainless steel, silicon bronze and brass, Monel and K-Monel nickel alloys, nylon, and aluminum.
A non-ferrous fastener is a fastener that does not consist of any iron content. We only provide non-ferrous fasteners, including nuts and bolts, to our customers, due to their many benefits over ferrous materials for a wide variety of industries, including commercial construction, sports equipment, high-end homes, and storefronts, among many others.
Seattle Nut & Bolt provides Seattle-area businesses and contractors with fasteners made from stainless steel, brass, silicon bronze, nylon, and high nickel alloys.
The Benefits of Non-Ferrous Nuts, Bolts, and Screws
Rust and Corrosion Resistant: Non-ferrous metals are highly resistant to rust and corrosion, which improves the durability and reliability of the fasteners.
Non-Magnetic: Non-ferrous metals aren't magnetic, which makes these fasteners perfect for use in both electrical and wired systems. However, keep in mind that some non-ferrous fasteners such as certain grades of stainless steel may become magnetic.
Heat Resistant: Non-ferrous fasteners have high heat resistance, which makes them suitable for use in applications exposed to high heat, such as food preparation.
---
Seattle Nut & Bolt: A Cost-Effective Choice
We understand that price is one of the most important factors when choosing a fastener supplier for your next project. That's why we provide competitive pricing on all of our products, including nuts, bolts, screws, and other fasteners. Whether you are looking for a long-term contract with reliable and consistent delivery or you need a one-time special order, Seattle Nut & Bolt guarantees competitive pricing for all of our customers, not just the big clients.
Other Benefits of Choosing Seattle Nut & Bolt
Customer Service: The professionals at Seattle Nut & Bolt have decades of combined experience in the fastener industry. No matter what your project is, we have the know-how and the inventory to get you what you need at a reasonable price and on time.
Variety of Products: We have the widest range of non-ferrous fasteners available in the area. Our diverse selection makes us stand out from the rest of our competitors. No one comes close to our selection, which gives your business an advantage when looking for hard-to-find fasteners or large orders.
On-Time Delivery: We understand the headache that comes with project slow-downs, especially when they occur due to delayed shipments. Seattle Nut & Bolt makes it a priority to deliver high-quality fasteners on time to all of our customers.
---
Seattle Nut & Bolt Serves The Following Industries:
Commercial Construction
Marine Construction
Governmental Construction
Utility Companies
Army Corp Projects
Watercraft
Custom Homes and Storefronts
High-Quality Fasteners and Service to Fit Your Business
No two businesses are the same. That's why we take the time to understand your company or project and how we can help you succeed. We have experience serving a wide range of customers, and we can help you save time, money, and stress when it comes to your next order of screws, bolts, nuts, washers, and more. Call today for a quote!